Twitter/@Pac12NetworkThe 2015 Pac-12 men's basketball tournament is set to begin this Wednesday, March 11 and conclude on Saturday, March 14. It will take place at the MGM Grand Garden Arena in Las Vegas. Here's the bracket, along with the times for each game. Ticket information is available here.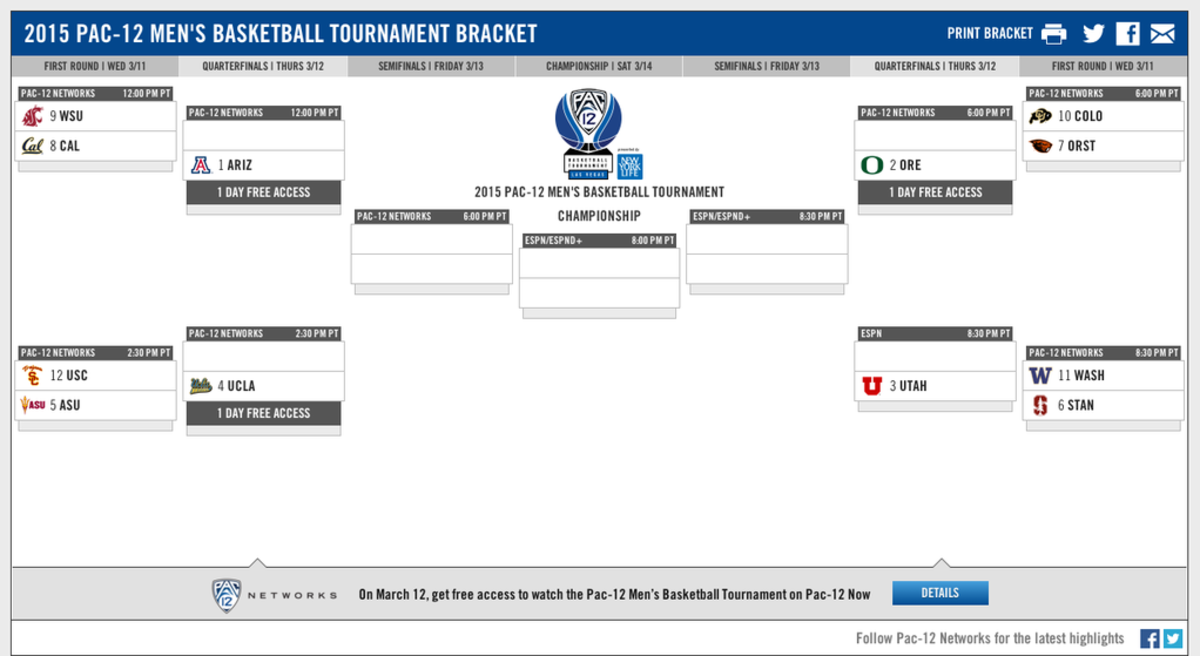 (@Pac12Networks)Pac-12 Tournament games will be broadcast on ESPN and Pac-12 Networks. 
Favorite: ArizonaFew teams in the nation have the talent of Arizona, and the Wildcats proved it with a 28-3 record on the season and 16-2 mark in Pac-12 play. Point guard T.J. McConnell is one of the steadiest floor generals in the nation, and has a number of dynamic scorers, including fantastic freshman Stanley Johnson, Brandon Ashley, and Rondae Hollis-Jefferson. Few teams have the balanced scoring of Arizona, which has six players averaging at least nine points per game. Arizona's three losses—at UNLV, at Oregon State, and at Arizona State—came by a total of nine points. The Wildcats will be tough to overcome for their Pac-12 competition in Las Vegas.
Sleeper: UCLAFrom December 13 to January 4, UCLA lost five straight games, and the Bruins' NCAA Tournament chances looked bleak. UCLA finished the season 11-5 with big wins over Oregon and Utah, and now the Bruins are right on the bubble, and can help themselves with a good showing in Las Vegas. UCLA has five very capable scorers averaging over 10 points per game, but depth is a major concern. Bryce Alford, Isaac Hamilton, Kevon Looney, and Norman Powell all average over 30 minutes per game. Tony Parker averages just under 25 minutes per game, and only three other players play at least 10 minutes each night. If UCLA can keep its guys fresh, the starting five can compete with anyone else in the Pac-12, and with the tournament on the line, the Bruins will definitely be motivated to make a deep run.
read more